In response to the growing concerns about the spread of
(COVID-19)
The RM of Shellbrook office will be closed to the public until further notice.
We will be answering your calls from 8:00am to 4:00pm (Monday thru Friday excluding holidays).
If you are wishing to make a payment
You may use the drop box by the front office door... please provide details with your payment.
Make a payment at your financial institution if you are able to select RM of Shellbrook (Taxes).
E-Transfer by using the email address rm493@sasktel.net there is no password and please provide details of payment.
---
R.M. of Shellbrook has partnered with SaskLander to start a pilot for their website specializing managing access to rural land.
---
Community Wells - Decommissioning
The Rural Municipality of Shellbrook No. 493 was first formed as the Rural Municipality of Rozilee No. 493 on January 1, 1913, and changed the name to Shellbrook No. 493 on October 20, 1923.
We are located in the North Central portion of the province west of Prince Albert, and northeast of Saskatoon.
The boundaries extend north to the Prince Albert National Park, west to the R.M. of Canwood #494, southwest to the R.M. of Leask # 464, south and east by the North Saskatchewan River, east to R.M. of Buckland #491 and northeast toR.M. of Paddockwood # 520. The western portion of the Sturgeon Lake First Nation and the Little Red River First Nation are within the R.M. of Shellbrook.
We are a farming community, growing canola, wheat, barley & rye. We also boast some of the best whitetail deer hunting in the country! Also mule deer, elk and moose are in abundance.
Sturgeon Lake Regional Park is within our R.M. with lots of fun summer things to do, as well as winter ice fishing!
Saskatchewan Grid Maps now available at the RM Office.
$3.50 per map (includes taxes).

RM Map purchased in office $16.65 per map (includes taxes)

RM Map mailed $21.05 per map (includes taxes)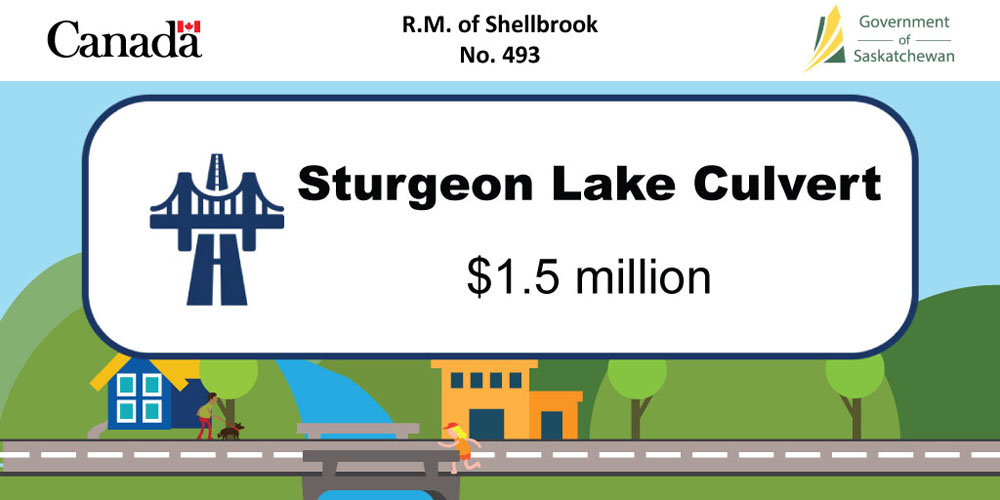 "Project funded by Infrastructure Canada & Gas Tax Fund"
Project start date: January 3, 2019
Project end date: March 12, 2019
Visit Official Website of Shellbrook - Click Here