---
R.M. of Shellbrook has partnered with SaskLander to start a pilot for their website specializing managing access to rural land.
---
SALE BY TENDER
The Rural Municipality of Shellbrook offers for tender Blk/Par E-Plan 74PA23289 Ext 1 Source Quarter Section SE-27-49-02-W3; property measures 240.8-meters frontage by 95.40 meters in length 5.68 acres.
All tenders must be submitted to the Rural Municipality Office by 4:00 p.m. September 25, 2020 in a sealed envelope marked "Property Tender RM Shellbrook". A certified cheque made payable to the R.M. of Shellbrook for 10% of the amount of the bid must accompany the tender. Tenders will be opened October 7/2020 at 9:00 am during the Council Meeting.
The R.M. of Shellbrook reserves the right to reject any or all tenders. Highest bid not necessarily accepted. Successful bidder will be required to provide the balance of tendered bid within 15 days of the tender being awarded. Property is sold as is, where is. Unsuccessful bidders will have their deposit returned. For further information please contact the R.M. office at 306-747-2158.
---
Community Wells - Decommissioning
The Rural Municipality of Shellbrook No. 493 was first formed as the Rural Municipality of Rozilee No. 493 on January 1, 1913, and changed the name to Shellbrook No. 493 on October 20, 1923.
We are located in the North Central portion of the province west of Prince Albert, and northeast of Saskatoon.
The boundaries extend north to the Prince Albert National Park, west to the R.M. of Canwood #494, southwest to the R.M. of Leask # 464, south and east by the North Saskatchewan River, east to R.M. of Buckland #491 and northeast toR.M. of Paddockwood # 520. The western portion of the Sturgeon Lake First Nation and the Little Red River First Nation are within the R.M. of Shellbrook.
We are a farming community, growing canola, wheat, barley & rye. We also boast some of the best whitetail deer hunting in the country! Also mule deer, elk and moose are in abundance.
Sturgeon Lake Regional Park is within our R.M. with lots of fun summer things to do, as well as winter ice fishing!
Saskatchewan Grid Maps now available at the RM Office.
$3.50 per map (includes taxes).

RM Map purchased in office $16.65 per map (includes taxes)

RM Map mailed $21.05 per map (includes taxes)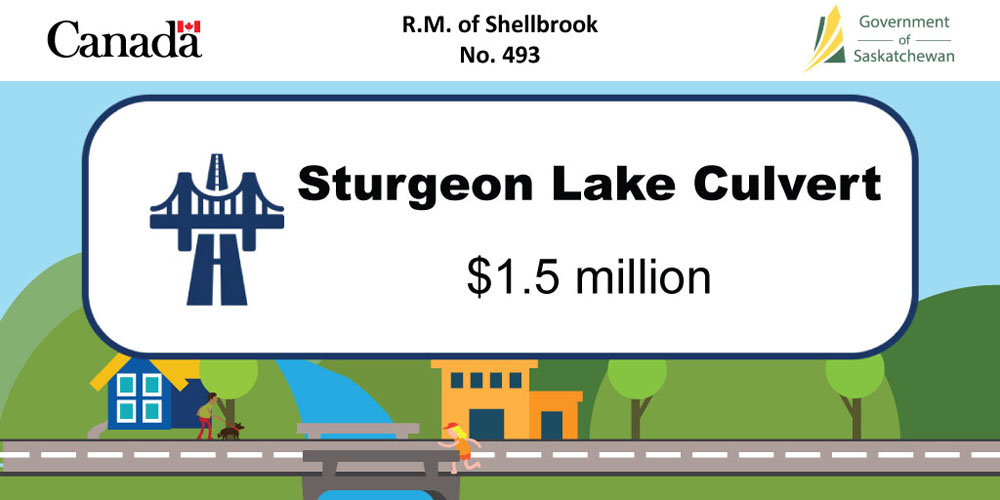 "Project funded by Infrastructure Canada & Gas Tax Fund"
Project start date: January 3, 2019
Project end date: March 12, 2019
Visit Official Website of Shellbrook - Click Here